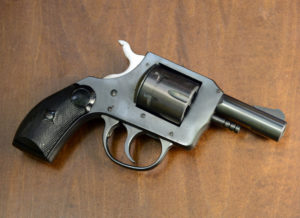 An 81-year-old man was arrested and held on $750 bond at St. Lucie County Jail by Fort Pierce police after neighbors complained that he had discharged a pistol in public three times on the afternoon of July 7.
The apparently intoxicated man was said to have used a black pistol to fire three shots while in his yard. After concerned neighbors had called 911, local police arrived on the scene at approximately 3 p.m. and went to the elderly man's home.
The man denied having fired off any shots, though he allowed the responding officers to search his home. During their time in the home, a pair of black semi-automatic pistols were found, though both were severely rusted.
While conducting the search, the man reportedly told police that he had a number of guns in the home. However, due to his apparently inebriated state, he was unable to remember exactly where they were located.
After the man's apparent comments, police then spoke with neighbors. Soon after, the police returned to the man's home, whereby the man allegedly pointed to a dresser. When it was checked by police, it reportedly contained a black revolver, with the weapon's drum containing expended shells.
The circumstances of this incident indicate that the man will be in need of a Port St. Lucie criminal attorney. Jeffrey Garland fits those qualification and has extensive experience dealing with such crimes.
Garland has been practicing law for more than three decades and knows better than to simply go by what's written in a police arrest report. That's because information may be incorrect or, in the worst cases, falsified in order to achieve a conviction on the charges levied.
The evidence that's eventually presented for such cases will undergo rigorous testing and examination. Jeffrey Garland's scientific background has helped shape his philosophy of only accepting evidence that can be absolutely proven.
To conduct such tests, Jeffrey Garland has access to experts in their field that can conclusively determine whether or not such facts are true. In a number of cases, that access has led to verdicts that have exonerated his clients.
So if you or someone you know requires the services of a Port St. Lucie criminal attorney, make sure to get in touch with Jeffrey Garland. He'll pursue every legal avenue to prove your innocence, so contact him today.